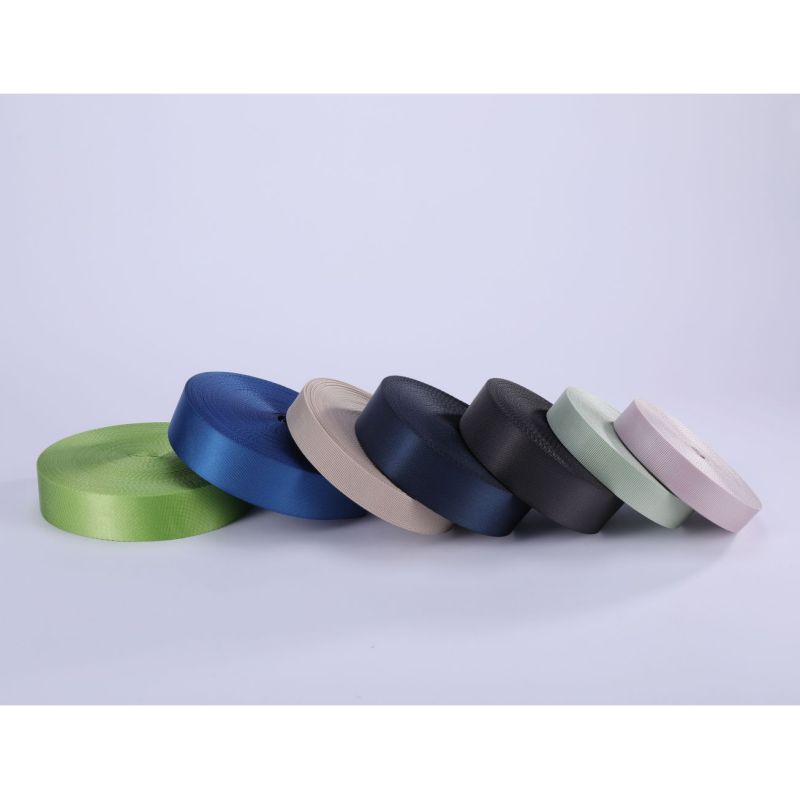 Webbing Tape
» Elastic webbing band
» Seatbelt webbing tape
» Jacquard webbing tape
» Webbing ropes and cords
Looking for custom webbing tape, narrow fabric and strapping at affordable prices? You're in the right spot. At TRAMIGO, we provide the widest range of webbing types and styles online to meet virtually any need. There is a specific type of webbing that is suitable for every purpose, whether you need your straps for leisure, travel, DIY projects, tactical, or outdoor uses. High-quality nylon, polyester, and polypropylene materials in a range of styles, including ribbon, tubular, mil-spec, and seatbelt narrow fabrics, are available in our inventory. Every type and style has special qualities that make it suitable for your particular applications.
Because it offers the ideal balance of strength and feel to withstand those high-abrasion uses, our nylon webbing tape is a best-seller. Although polypropylene webbing, which has excellent UV protection and doesn't absorb water, is even better suited for the outdoors and harsher weather, nylon outdoor fabric still performs satisfactorily in inclement conditions.
Searching for the best strapping with multiple uses? For the best combination of durability, water resistance, and smooth texture, take a look at our polyester webbing straps. At TRAMIGO, it's simple to choose the best kind of webbing for your requirements. Our selection has what you need, whether you need strapping to secure something or webbing to hold something up.
Unsure of the best flat webbing tape for you? Because there are no minimums on our webbing, you can purchase exactly what you need to fit your needs. Our team at TRAMIGO is prepared to assist you in finding the ideal webbing or in having it personalized with your own color, pattern, or graphic.
What we provide
Woven elastic is the type of elastic band famous for its remarkable elasticity, ability to move and bend, and not to narrow down while stretching. A woven elastic band is the best option when looking for high-strength elasticity.The woven elastic band has great robustness; that is why it can be utilized for heavy-duty items like strapping and home decorating.
parachute cord, also known as paracord, offers a cheap and effective way to close an opening, especially in items made from fabric. It can be found in a multitude of everyday products such as jackets, pants, backpacks, sweatshirts, bags, and several other applications.  Stylish, durable, and highly-versatile, our customized paracord is great for lightweight load-bearing jobs and accessorizing projects alike.
Seatbelt webbing is designed with a unique weave that gives it a soft feel and high abrasion resistance. This makes its great for re-webbing outdoor furniture, weaving canoe seats, it can even be used for a comfortable and stylish belt. Available in nylon and polyester as well as with colorfast sublimated dyes and custom designs.
Why choose us
NINGBO TRAMIGO REFLECTIVE MATERIAL CO.,LTD. was established in 2010, which means we are in the garment accessories business for over 10 years. We are engaged in the design, development,manufacture and sale of highly specialized engineered custom webbing tape. Our products sells well in South America and the rest of the world, such as America, Turkey, Portugal, Iran, Estonia, Iraq, Bangladesh etc.
As a leading supplier of elastic webbing and webbing cords for the fashion, backpack, home textile, and footwear industries, our company offers a wide range of materials that include polyester, nylon, aramid, cotton, and latex. Our strong supply ability makes us capable of providing high-quality webbing of various materials to fit clients' requirements.
Compared to other suppliers in the market, our company offers many unique advantages. Firstly, our low minimum order quantities allow small businesses to purchase even the smallest quantity of webbing they need, which saves them a lot of money. Secondly, our quick response time ensures that customers get their inquiries answered promptly and efficiently. Thirdly, our ability to accept customized orders empowers our clients to have creative control over their product design. Fourthly, we provide free samples, so our customers can test the quality of our products before placing an order. Finally, we also have a short delivery cycle, so our customers can receive their orders in a timely and efficient manner.
Quick response
Controlled service and personal attention to all requirements, quick response to all requirements in 6 hours.
Delivery service
Competitive freight cost from our shipping agent partners, more than 200 containers shipped through our shipping agent partners every year.
Rich experience
All the sales person are experienced experts, who can easliy get your idea and pass your request to the R&D and prduction department.
Customized service
Personalized packing design service is available, the professional order documentary personnel, and the delivery is timely.
Quality control
With complete high-precision testing equipment, strict QC team quality control to the whole process of production.
customer service
Meeting requirements competitively and efficiently from production items to R&D programs
Application of webbing
Our elastic webbing band and webbing cords can be used in many different industries. In the fashion industry, elastic webbing is commonly used as a waistband, hem, or cuff in shirts, skirts, or pants. Meanwhile, webbing cords have their place in the production of handbags, backpacks, luggage, or suitcases as handles, cords or straps. For home textile and furniture, they are used in draperies, curtains, sofas, and cushioning. In the footwear industry, elastic webbing can be seen as the core component of trainers, sneakers, and even high heels.
The reason why woven elastic bands are so popular in the apparel and clothing industry is because they are the tightest and strongest elastic bands available.
The waistbands of some pants and trousers as well as the cuffs and hems of clothing all use woven elastic bands in modern products. Woven elastic has taken over in the field of athletic wear.
Natural and synthetic fibers can both be used to make woven elastic bands. These fibers include cotton and polyester, and woven elastic is produced by wefting and warping threads. Rubber is then woven into it. Both natural latex and synthetic rubber are suitable for providing the renowned elasticity and durability of woven elastic.
What could be more perfect than a woven elastic band made by wrapping and wefting the fabric with either natural or synthetic rubber? It provides the tight fit needed for activewear. However, it makes the elastic band incredibly strong and resilient. Because of this, it is extremely common and useful in every sector of the clothing industry that requires some elasticity.
Physical activity is becoming more and more popular these days, and as a result, people are looking for equipment that will meet all of their needs.
Activewear should fulfil all the requirements of physical activities like jumping, running and swimming. Unlike day clothes activewear has to be suitable enough to allow easy body movements.
Advantages of Braided Elastic Bands
Woven elastic has great elasticity.
It is famous for its strength and long-lastingness.
Woven elastic is very soft and comfortable to the touch.
It offers a very snug fitting.
It is great for bed sheets, sofa covers and pillowcases.
It is ideal for home furnishing items.
It adds to the image of your brand.
TRAMIGO can provide you with: nylon elastic band, cotton elastic band, polyester elastic webbing
Webbing has a wide range of applications, the following are several common applications:
1. Textile processing: Webbing is used for decoration and decoration of clothing, shoes and hats, bags and other textiles. Webbing can be used for embellishment, trimming, and as a decorative detail.
2. Packaging material: Ribbon can be used for the packaging of sealing bags, gift boxes, cigarettes, bottle caps and other products to increase the aesthetics and quality of the products.
3. Sports equipment: Webbing is used in various sports products, such as gloves, helmets, armor, etc., to protect and increase the comfort of athletes.
4. Furniture: Ribbon is used for decoration and strengthening structure of furniture, such as beds, sofas, chairs, etc.
5. Medical devices: Ribbons are used in various devices in the medical industry, such as bandages, gauze, dressings, etc.
6. Industrial and military industry: Webbing is used as a carrier in industrial and military fields, and is used for position indication and signal transmission such as flags and lanyards.
Advantages of custom webbing
Webbing has a slot of uses like in apparel industry.
They are ideal for furniture making.
They are used in parachuting, climbing and racing.
It is lightweight and soft.
It is a very long-lasting and strong material.
It is also used in jerseys.
TRAMIGO can provide you with: nylon webbing tape,polyester webbing tape,cotton webbing tape,polypropylene webbing tape,aramid webbing tape